HOME - Winter 2023
Stamford Christmas Markets, Sketching Workshops around Stamford and lots more - details below!


A little soul soaring sketching in lovely London© Karen Neale, watercolour artist Stamford/London
Uplifting in every sense – from level 58 of Horizon 22 spirits can soar too in transcendental, ethereal views across London and way beyond!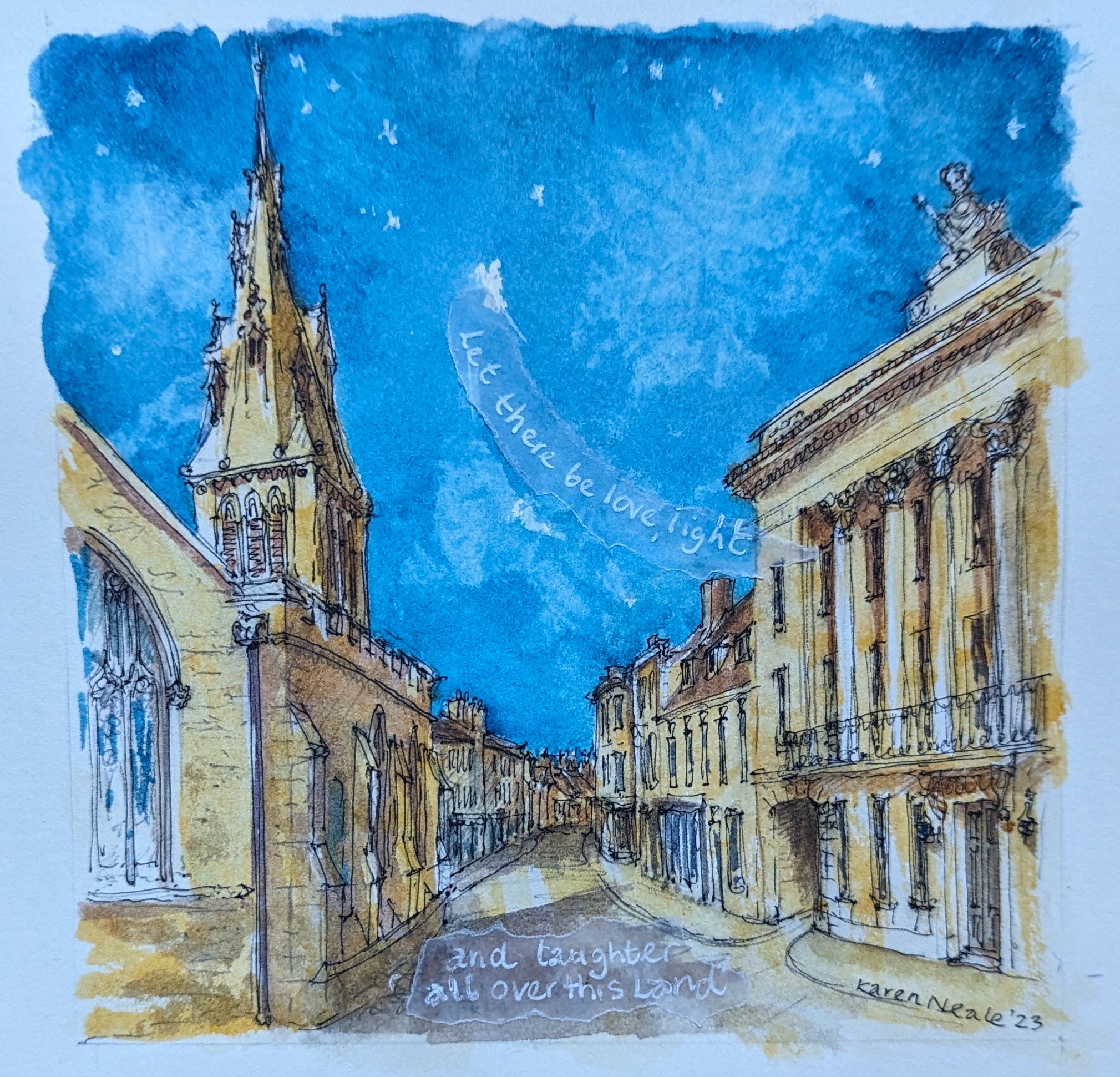 Anyway, back down to earth, I hope this finds you well!
It's been a tough old year for so many here, near and far, so the view is new, but the message on my seasonal card this year is the same –
'Let there be love, light and laughter all over this Land'
…...we need it!
St. Mary's Street, Stamford
© Karen Neale, watercolour artist Stamford/London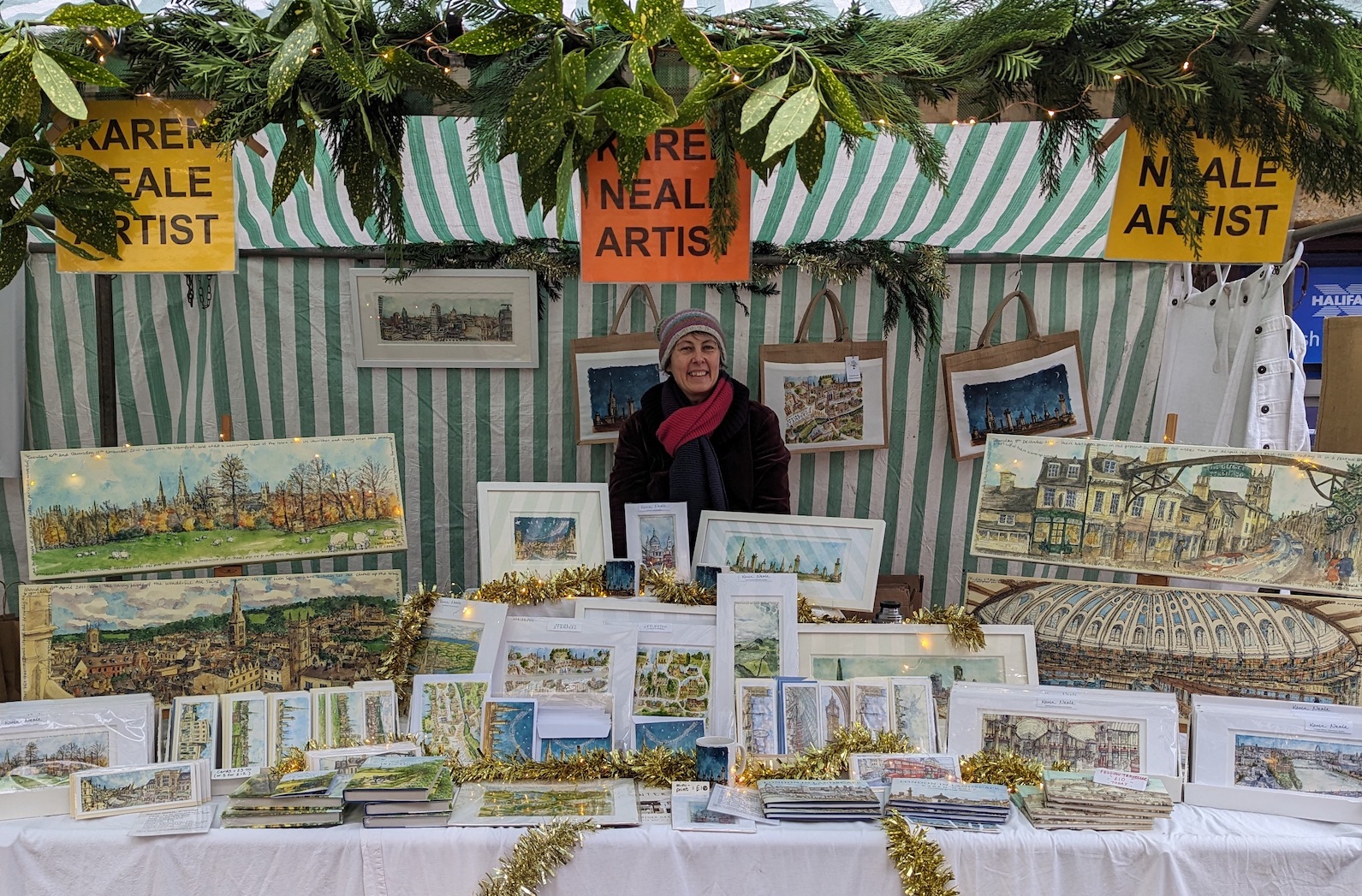 l have these cards and all my other work at the Stamford Christmas Market on 26th November, as well as on my pop-up stall on the weekly Friday Market – find me and say hello!

A clue what to look for is here..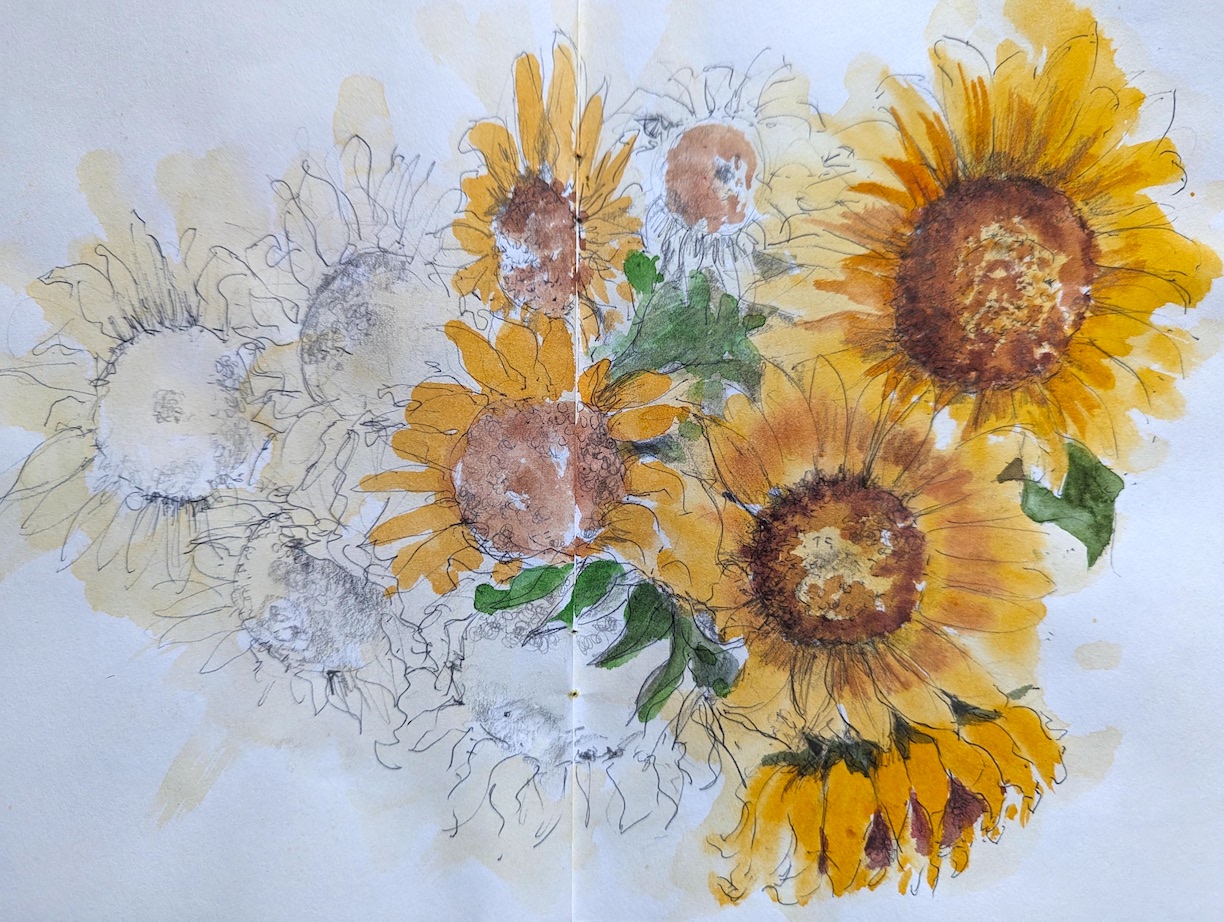 Be it cityscapes or sunflowers, I love sketching and painting the world around me, sharing that with others, and getting them sketching too! So, when I am not out sketching from the sky, I lead sketching workshops! On Mondays we're based at Stamford Arts Centre and alternate Wednesdays at Mindspace – the marvellous mental health charity in Stamford. So, wherever you are on your sketching journey, be it doubting doodler or a drawing diva, come and enjoy some soul soothing scribbling and sketching. See below under Events for further details.

Stamford from First Drift
© Karen Neale, watercolour artist Stamford
As well as encouraging others to sketch, I also undertake some wonderful commissions. The view above of Stamford from First Drift is one example and will now be available as prints and cards, and as a limited edition canvas print. I'll have these with me on my pop-up stall on Fridays at the brilliant Broad Street Market.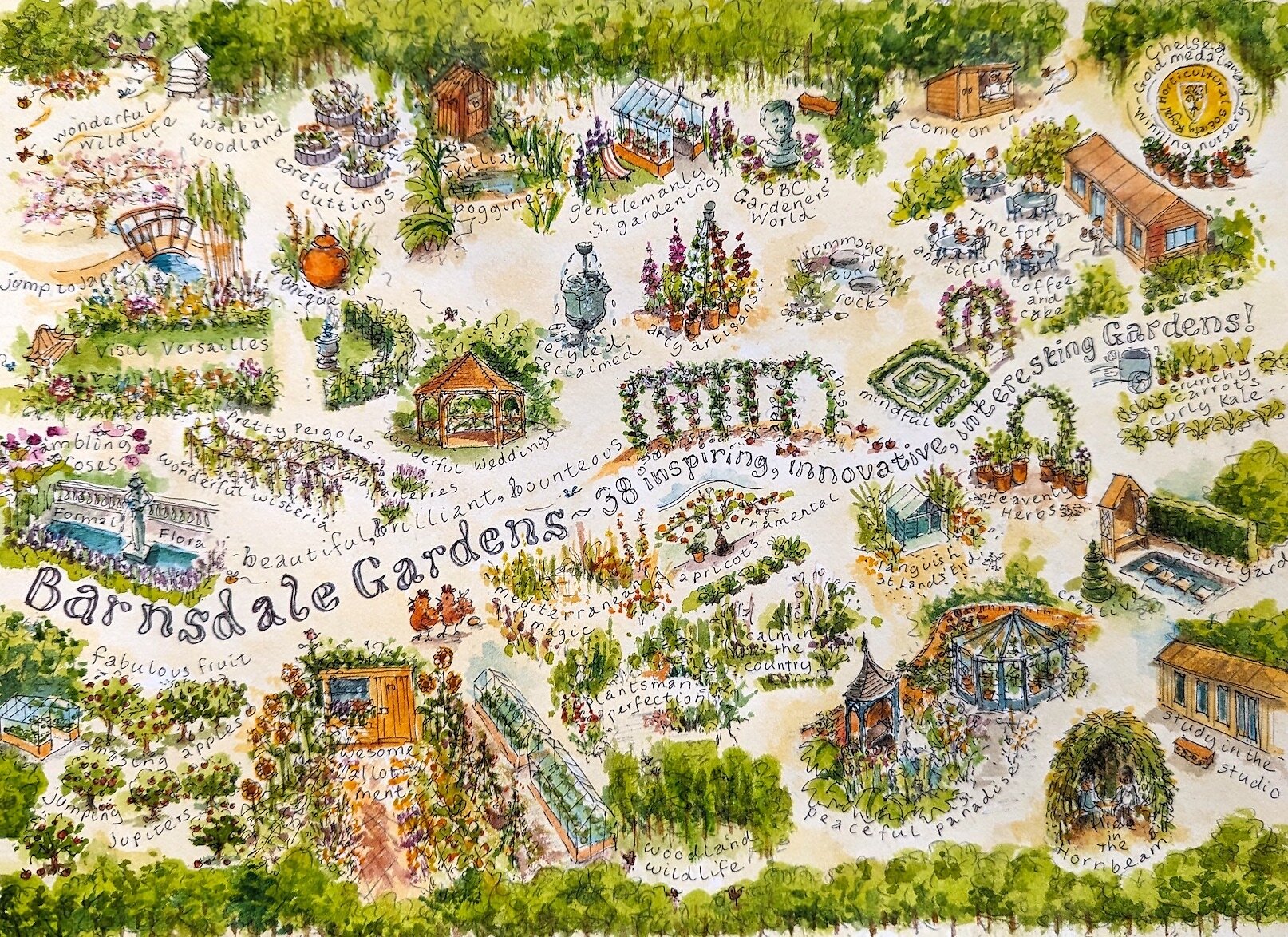 Commission for Barnsdale Gardens
© Karen Neale, watercolour artist Stamford
Another unusual commission is the illustration above for the brilliant Barnsdale Gardens to celebrate its 40th Anniversary and the mugs and tea towels are now in the Garden shop! A popular setting for BBC's Gardeners' World it's a great place to visit – and get your mug and tea towel!!! Another below is of All Saints' Church and Stamford.


View from the Top of St John's to All Saints' Church
© Karen Neale, watercolour artist Stamford
So, Wishing you wonderful views and creative calmness as we wander and wonder into Winter. Please do contact me if you'd like to talk about a commission or illustration project, or want more information about any of the above or just want to say hello! Continue below for more information on my forthcoming events and about 'me and my work'. You can also see what I'm up to on Facebook.
Me sketching from Horizon 22 in November 23!
© Karen Neale, watercolour artist Stamford and London

EVENTS Winter 2023
• Stamford Christmas fair on Sunday 26th November, and each Friday up to Christmas on my pop-up stall on Broad Street/ Ironmonger Street.

• Stamford Sketching Workshops - contact me to join Monday morning sessions (10–12.30) - based at the Stamford Arts Centre . Cost is £15 per session - tea and biscuits included! I confirm sessions on the Friday before each session depending on numbers.

• Mindspace sketching sessions based at the Mindspace Hub on Broad Street. from 10am – 11.30am on alternate Wednesdays. Mindspace is the wonderful local charity, which encourages the improvement of mental health and well-being for all in and around Stamford. Book here to join sessions. They are FREE, though a donation is always very welcome!
Angel detail, Peterborough Cathedral
© Karen Neale, watercolour artist London

View from Platform 1 of Blackfriars Station, London, June 2019
© Karen Neale, watercolour artist London
A wonderful commission from 2019 for Rules - the oldest restaurant in London, see Rules Restaurant's new menu below.

Menu Illustration for Rules Restaurant, London, July 2019
© Karen Neale, watercolour artist London

View from the Top of Millbank Tower, London
© Karen Neale, watercolour artist London


There's more about 'me and my work' below and on the other pages, and from other perspectives, here are a couple of press articles from Wanderlust Travel Magazine, Frost magazine and The Culture Trip - though there is a slight error in that I never had time to see Downtown Abbey or Doctor Who - just Danger Mouse with my son!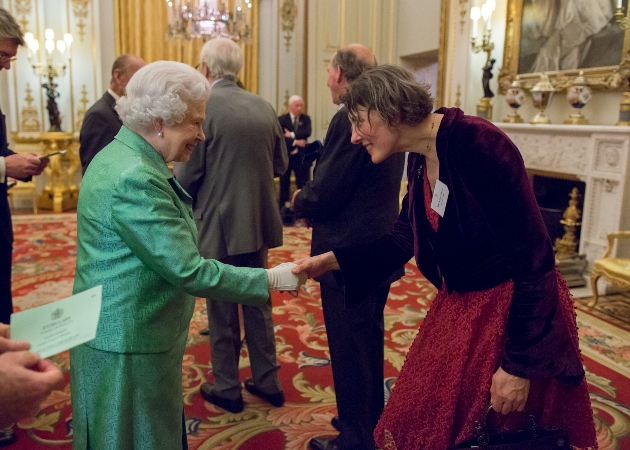 Her Majesty The Queen was the patron of the Winston Churchill Memorial Trust, now Churchill Fellowship. Being awarded a Fellowship not only enabled me to undertake a journey of a lifetime, it also opened so many doors to wonderful opportunities in my subsequent work. Churchill Fellowship applications for 2022 are open until 22nd November, so if you are a British Citizen and passionate about your subject- it could be for you!

Reception at Buckingham Palace on March 18th 2015 to celebrate the 50th anniversary of Sir Winston's living legacy - the Churchill Fellowship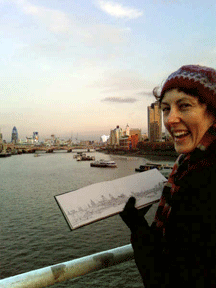 Karen Neale Art: 'Me and my Work'
That's me braving the winds racing across Waterloo Bridge. My passion is sketching and painting the world around me in my annotated sketchbook diaries. I stand 'in situ' and draw with an ordinary black biro as much as I can of what is going on around me in my book. Then, I add colour with my small field box of watercolours. The notes I make around the perimeter are observations I've made whilst I've been sketching. It is a great privilege and pleasure to simply spend time in a place and draw, and it is a wonderful way to get to know a place and its people.


San Gimignano,Italy
© Karen Neale, Watercolour Artist London

Avignon, France,
© Karen Neale, Watercolour Artist London




I've kept sketchbooks since leaving school, throughout my architectural studies at Newcastle and Sheffield Universities, subsequent move to London and eventual qualification as an architect in 1999. My sketchbooks have taken me on some wonderful adventures. In 2001 I was awarded a Churchill Fellowship to undertake an artist's journey inspired by
World Heritage Cities and Sites
, from France travelling eastwards through eight countries to Nepal, recording it all in the pages of my sketchbook diary. Subsequently I spent time in
Cuba
, culminating in a solo exhibition of my work at the British Ambassador's residence in Havana.


Havana,Cuba © Karen Neale, World heritage artist London



Closer to home I continued the World Heritage theme with a community project along Hadrian's Wall. Then in London, I was privileged to sketch in and around the Palace of Westminster and was artist in residence at the Athenaeum Club in 2004. Rather auspiciously I was appointed 'MCC Young Cricket Artist for 2005', based at Lord's Cricket Ground, and subsequently artist in residence at The Queen's Club for the 2007 tennis season.

Cley-next-the-Sea, Norfolk, © Karen Neale, watercolour artist London
please click on the image below to see a larger picture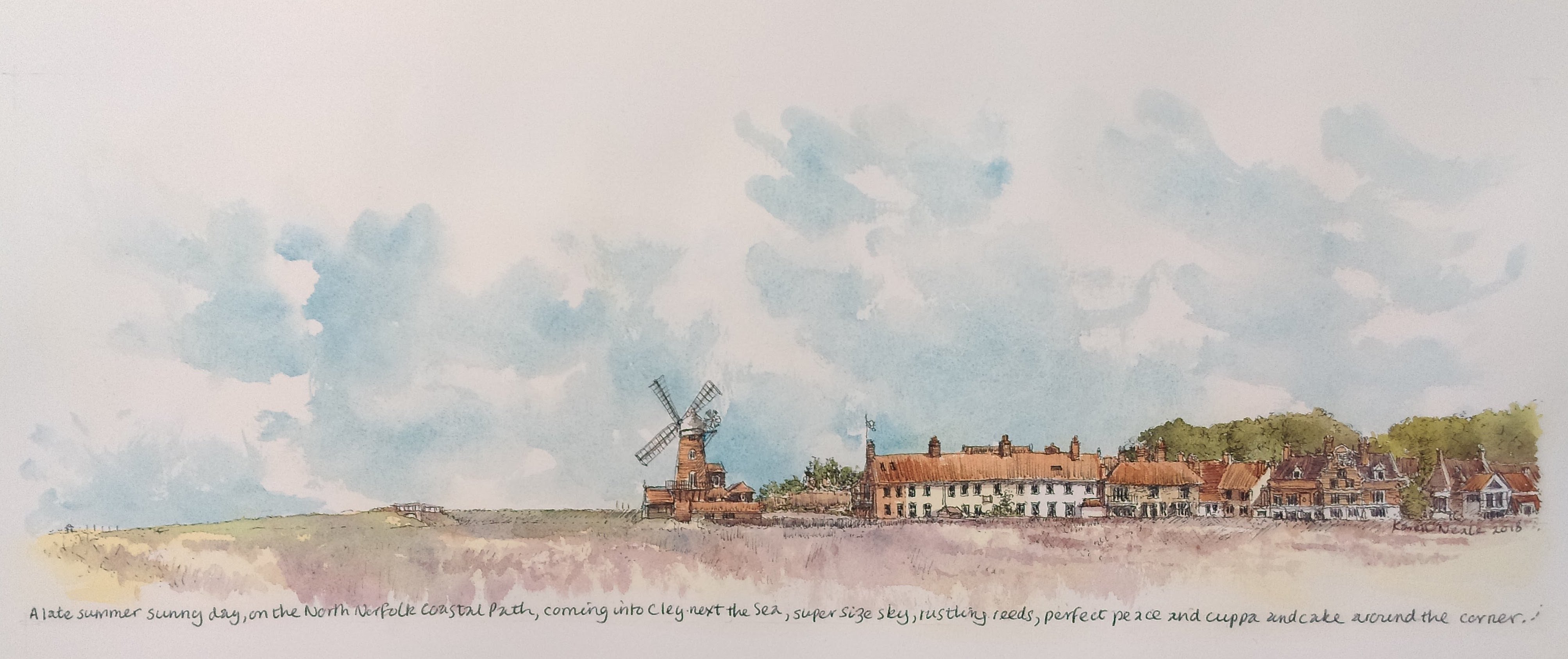 I've had some fabulous commissions. In 2006 The Winston Churchill Memorial Trust commissioned me to produce a painting to present to Her Majesty the Queen. I've also worked with Bob Wilson's charity, The Willow Foundation, sketching in and around Arsenal's football stadiums.


The Old Highbury Ground, Arsenal, London © Karen Neale, watercolour artist London
please click on the image below to see a larger picture

In October 2006 my first London sketchbook diary was published by Methuen, entitled 'London in Landscape' with Winston Churchill's daughter, Lady Soames generously writing the foreword. In 2009 'London in Landscape Volume II' was launched with an exhibition of my paintings in the Barbican Centre, London. Both books are available through Methuen, Amazon, and me. Since 2010 I have resided in Stamford in Lovely Lincolnshire. In 2011, Walkers, Stamford's local bookshop published my Stamford sketchbook. And now in 2015 A Fellow Traveller!

Broad Street Market from Browne's Hospital on Market Day, Stamford
© Karen Neale, watercolour artist London

These books have been a real labour of love for me as I've been out in all weathers, on tops of buildings, along the streets, in various wonderful institutions, sports grounds, churches and cathedrals, markets, museums and so on. It is an utterly uplifting experience to be able to just sit and draw in a place and become a part of that place for a few hours. If you would like to contact me for further information, please click here to e-mail or call me on
07710 406967

I hope you enjoy looking around the website!
Karen Neale Art
Watercolour Artist London and Stamford.
World Heritage Artist, London